Vocal Communication Workshop (VoCoGro)
29 October 2018
UMCG Rode Zaal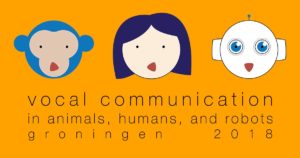 'Vocal Communication' Workshop (VoCoGro), will take place on Monday, October 29, 2018 at the UMCG. The workshop will serve as a kick-off event for Deniz's VICI grant, "It takes two to communicate: Voice perception and linguistic content," and Terrin's VENI grant, "More than words: Uncovering the effects of talkers' voices on real-life speech perception by cochlear implant users." Many outstanding researchers will give lectures on vocal communication in humans, animals, and robots.
Join us for a day full of wonderful scientific discussions.
Confirmed speakers include:
Jan Wouters, University of Leuven, Belgium
Carolyn McGettigan, Royal Holloway, University of London, UK
Khiet Truong, University of Twente, Netherlands
Marco Gamba, University of Torino, Italy
Anara Sandygulova, Nazarbayev University, Kazakhstan
Roger K. Moore, University of Sheffield, UK
Ella Z. Lattenkamp, Max Planck Institute, NL

Event Details:
Date: Monday, 29 October 2018
Time: 9:30-17:00
Location: Rode Zaal, UMCG, Groningen, Netherlands
To sign up:
https://vocogro.nl/2018/
For further information please contact:
Dr. Terrin Tamati, t.n.tamati@umcg.nl
Organizing Committee:
Terrin Tamati
Etienne Gaudrain
Leanne Nagels
Floor Arts
Deniz Başkent