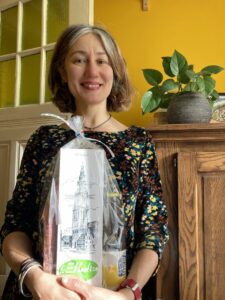 Deniz gave a lecture at the Scientific Symposium organised by the Student Organisation G.F.S.V. Pharmaciae Sacrum, coinciding with the 141st anniversary of the organisation. The topic was MeloDIES in Audiology.
Deniz talked about our music training project where we use a newly developed method of piano learning (developed by Robert Harris and PI Ellie Harding), where we teach the method to the piano teachers and they teach it to users of cochlear implants. We only have data now to see if this training can provide measurable benefits, but regardless, already it is a great reward to see how this method works and our participants can enjoy playing music.
Also kudos to the students at the event. All the questions were excellent, each on an important research topic either we are busy with or we should be busy with. Such interactions are so inspirational, and the thank you gift is just the cream of the cake.
Thanking the organisers once more for this invitation, and all of our collaborators (Rolien Free, Bert Maat, Barbara Tillmann, Etienne Gaudrain) and funding (Dorhout Mees Stichting, NWO – Dutch Research Council.