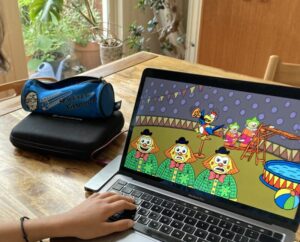 How do children with hearing aids deal with understanding speech with other interfering speech in the background? And children with cochlear implants?
Deniz will be presenting our recent results with both groups of children at the upcoming ARO Midwinter Meeting, in February 2023, in Florida. The results are eye opening. In short, while the overall picture is optimistic, not all children do well to the same degree, and some have great difficulties. In cochlear-implanted children, some children perform better than implanted adults. So, we have so many more questions to follow up!
Research with children in general, but with hearing loss in particular, is challenging. All tests need to be modified to fit the attention span of children, and with all the other obligations, such as school, hobbies, clinical visits, they are already full in their agenda's and at times very tired. Perhaps as a result of this, relevant literature seems limited. On the other hand, this research is also very rewarding. The hearing devices often work differently for children than adults. While research with adults is very valuable, we also need to know these differences to better serve the needs of children. And for this, we need to continue providing this kind of research-based evidence.
The data Deniz will be presenting is a result of a number of projects conducted over many years, where we first had to find out the right tests, and then the right interfaces, and then work around children's and their parents' very busy schedules, and then also combine our expertise from many different fields. Many researchers spent hours on the road to visit the children at their homes or schools, to not disrupt their daily lives.
Every single data point is a valuable one from hours and hours of efforts from participants, parents, researchers, and sometimes even teachers. We are grateful to all. We also appreciate funding from many resources for this project of similar children's projects (NWO (Dutch Research Council), ZonMw, Sonova Group, Phonak, UMCG, University of Groningen) and we hope to be able to continue this important work, especially now that we have the right tools and expertise.
The co-authors and many more who had contributed to this research in earlier stages:
Laura Rachman, Leanne Nagels,  Petra Hendriks, Debi Vickers, Etienne Gaudrain. Gonca Sennaroğlu, Gizem Babaoğlu, Pınar Ertürk, Basak Ozkisi Yazgan, Bert Maat, Rolien Free, Iris van Bommel, Evelien Birza, Jop Luberti, Paolo Toffanin, Jacqueline Libert, Jemima Phillpot.